A Lewisham coffee shop has unveiled a new mural that celebrates the borough's LGBTQ+ community.
Corner New Cross, an LGBTQ+ led coffee shop, raised more than £9,000 from donations and a grant from Lewisham Council for the mural which is inspired by real LGBTQ+ people from the community.
The mural, painted by artist Al Leys, is based off of a photoshoot involving members of Lewisham's LGBTQ+ community and LGBTQ+ artists, by photographer Stuart Carruthers.
Shop owner Tarek Merlin, 47, said: "The artwork sort of asks you to look at the community without preconceived ideas of what defines someone – instead of seeing a man or a woman, heterosexual or LGBTQ+, to just see a community of human beings instead.
"It is a celebration of queer identity, a recognition of our shared differences, and our shared values and a proud statement of inclusivity, representing a collection of people from the queer community.
"It is also about exploring ambiguity in gender and sexuality, we wanted there to be a fluidity in form, speaking to ambiguity in terms of sex, gender, ethnicity and identity.
"Perhaps most simply it's about community and connections between people. Although we are all unique, we are connected through our shared values, of kindness, respect, inclusivity, and being welcoming and kind to one another.
"It is our sincere hope that the mural will be meaningful to everyone."
The project is a collaboration between Corner, mural specialists Artmongers and 34Bus, a community organisation made up of graduate artists from the Lewisham School of Muralism.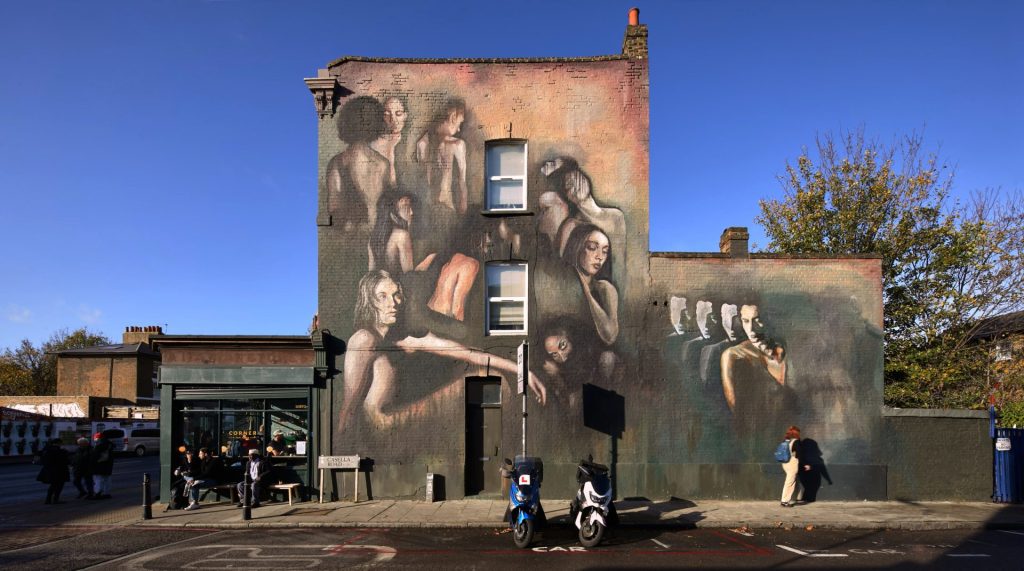 Merlin added: "We wanted it to be vague and open to interpretation so that everyone could see something of themselves in the piece in the end.
"We're so happy with the end result and I really think we have achieved our aim."
Merlin, who opened the cafe in March last year with his partner Mark Osman-Barter, 38, said the response from the community has been very positive.
He added: "When the artists were working on the mural, a lot of people passing by would stop and ask questions, which was a lovely and really powerful way to create connections with people. 
"There's something really interesting about working on the street and being part of the public realm, part of people's every day.
"We really hope everyone loves it and comes down to check it out and enjoy it as a new piece of public art."
The Lewisham coffee shop on New Cross Road also has its own art gallery downstairs that showcases the process behind creating the mural, and displays the LGBTQ+ letters on its front window.
This year the cafe is planning to expand to see cocktails and light bites, and hold performances, art and music.
The mural features in a documentary film on YouTube by filmmaker Conrad Armstrong and artist Al Leys.
The documentary can be watched here.
Featured image credit: David Christian