A coffee shop in Lewisham is aiming to create a mural that celebrates London's LGBTQ+ community.
Corner New Cross, an LGBTQ+ led coffee shop in New Cross, has launched a fundraiser for a mural to be painted on the side of its building that is inspired by the LGBTQ+ community.
The project is a collaboration between Corner, mural specialists Artmongers and 34Bus, a community organisation made up of graduate artists from the Lewisham School of Muralism.
Owners Tarek Merlin, 47, and Mark Osman-Barter, 38, said the mural will be inspired by real people from the community and nightlife in the area.
Merlin said: "We want to create something that is meaningful to everybody but also speaks a bit more to the LGBTQ+ community.
"The idea behind the mural is that we are representing different figures and identities in a kind of ambiguous and androgynous way that are connected, but can be separate too.
"It's a message about bringing people together."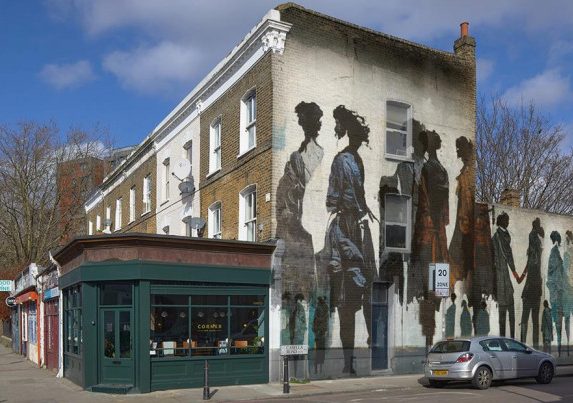 The couple, who opened the coffee shop together in March, hope the mural will become a cultural attraction that will encourage new visitors, increase footfall and stimulate local business.
Merlin added: "It's about being very public and visible so everyone can see it as part of their everyday lives, so its not something that hidden away or secret or something to be ashamed of.
"There's so many intersectionalities in the queer community but also we are part of the same queerness."
The store on New Cross Road also has its own art gallery downstairs that showcases the process behind creating the mural, and displays the LGBTQ+ letters on its front window.
Whilst Osman-Barter handles the day-to-day running of the coffee shop, Merlin manages the art gallery downstairs.
He said: "The shop aims to create a living room in the area, that people will feel happy and comfortable to come into.
"It's important that we create these spaces for everyone and also for the minority community, to feel that they have a home, that they are loved, that they have a space, that they are welcomed."
Merlin explained the cafe's significance to him and his partner.
He said: "There was a conversation we overheard between a dad and his young kids. They had asked what the letters mean and the dad just calmly and sensitively explained.
"It was just this lovely conversation that I never had when I was growing up.
"I didn't know any other gay people in my sphere. It would have been transformative to have a place like this to come to when I was young and it would have completely transformed the way I thought about myself and understood my identity."
The fundraiser for the mural has raised more than £5000 so far of Corner's £9000 target, and the cafe will begin work on the mural in mid-October.
Donate to the fundraiser here.
Featured image credit: Corner New Cross