BROMLEY fencing star Amelie Tsang received royal advice about how to maintain her mental fitness on her way to the top.
The 17-year-old, who was crowned world junior fencing champion earlier this year, was joined by The Prince and Princess of Wales at Bisham Abbey National Sports Centre for a SportsAid workshop dedicated to mental health and wellbeing.
Tsang was amongst a host of young athletes who heard from a number of sporting stars, including four-time Olympic champion Sir Matthew Pinsent and five-time Paralympic gold medallist Ellie Simmonds, about their experiences of managing anxiety, pressure and expectation.
For several years, SportsAid has been providing information and advice on mental health and wellbeing in partnership with BelievePerform. The athletes, as well as their parents and guardians, contributed to two themed sessions, followed by a couple of practical exercises, alongside The Prince and Princess.
She said: "We learnt about resilience and what that can look like day to day, how to improve your resilience and the importance of checking in on your mental health, even when you are doing well.
"I had Prince William in my group and he was really nice. We spoke a lot about resilience. He took a lot of interest in everyone in our group.
"We chatted about the difficulty of maintaining friendships in your sport, as you are friends when you are not competing and then suddenly you are competing for a medal or a place. He was really interested in how you set those boundaries.
"All athletes need some sort of mental resilience. I have been injured over the past year and it has been important to have the resilience to get up out of bed every day and even though I can't do the thing I have dedicated so much time to, I can do the little things that will help me get back to where I was."
The visit from The Prince and Princess – the Patron of SportsAid since 2013 – comes after SportsAid revealed the findings of a new mental health and wellbeing survey, commissioned by the charity in September 2023, on World Mental Health Day.
The survey, run in partnership with BelievePerform and EVERFI, highlighted the anxiety felt by young athletes involved in performance sport, the different challenges facing female and para athletes, and the appetite for more support and advice.
Tsang was one of several young athletes in attendance who receive funding and support from SportsAid to pursue their sporting ambitions.
"The support from SportsAid is really, really important," Tsang added. "I am in a sport where we don't have proper funding so to be able to get this insight into mental health and get the support through the events they do, it has helped me a lot."
Tsang's fencing journey began when she took up the sport eight years ago, and after winning the Cadet World Championships this year the teenager has her sights set on future Olympics selection.
She said: "At the moment I'm still injured so I'm focusing on rehab so I can get myself stronger and finally get rid of the injury once and for all.
"I'd like to go to the Olympics. That's a big dream of mine, maybe win, who knows!"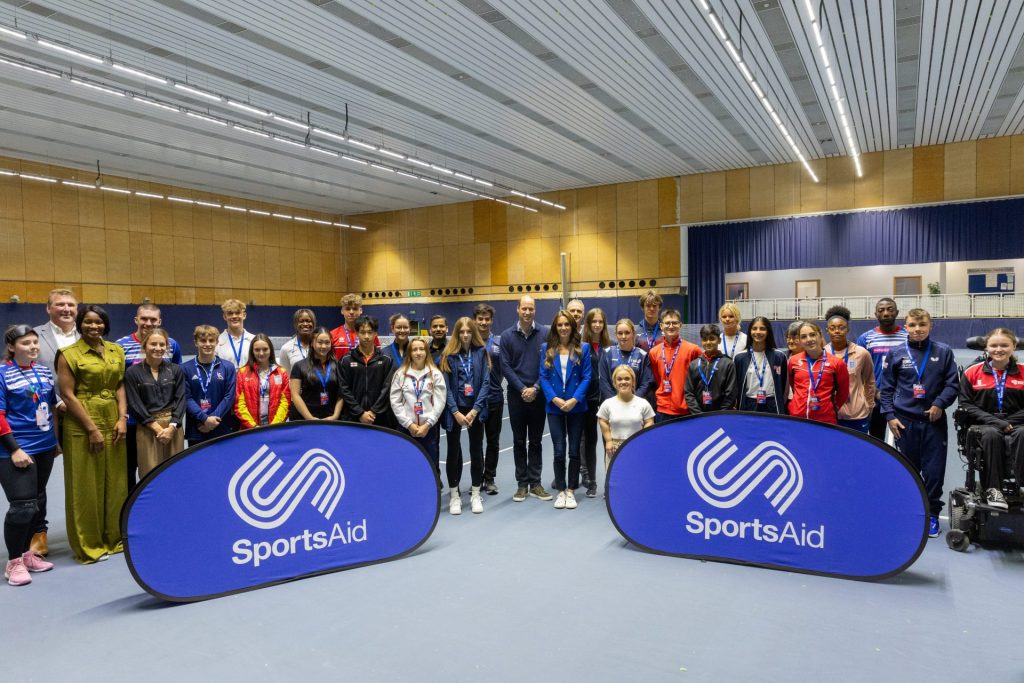 SportsAid supports over 1,000 young athletes a year through financial grants and personal development opportunities and Tim Lawler MBE – SportsAid's Chief Executive, who accompanied The Prince and Princess throughout the visit – is excited about the charity's future work on mental health.
He said: "The support of The Prince and Princess is really special and exciting.
"The Princess, as our Patron, has been so supportive and we know this is a topic she is hugely passionate about.
"They engaged and shared their experiences with the athletes, who were also able to hear from multiple Olympic and Paralympic champions about their own personal experiences.
"We are now ramping up our work around mental health and wellbeing. This a key space we need to move into – it's an unmet need and it's understood by athletes.
"This event today is not just a one-off – it was a hugely fun day but we want to do even more heading into next year to further enhance our support for our athletes around health and wellbeing."
SportsAid is seeking support from individuals and organisations to allow the charity to invest further in its mental health and wellbeing initiatives. Please contact Serena Castiglione, Head of Fundraising at SportsAid, on [email protected] if you would like to help provide talented young athletes, as well as their families, with the support and advice they need at a key time in their development.
Image credit: Sportsbeat