A new edition of a map showing quiet routes to walk around London launched last week. 
Footways, a social enterprise that aims to encourage people to walk more for everyday journeys, launched the second edition of its map of attractive walking routes in central London. 
The previous edition was launched in 2020 with the aim of getting more people to walk, suggesting new enjoyable routes for walkers and campaigning for improvements in the capital's streets.
David Harrison, co-founder of Footways, said: "Our aim is to provide attractive A to B routes between key destinations.
"We have looked for relatively attractive direct routes along enjoyable, quiet streets which avoid polluted main roads, which Google Maps tend to send you along.
"To a large extent our routes go along really wonderful streets, but at times we have to go for the least bad option, and we will campaign for improvements."
Harrison explained that the first map has received positive feedback and showed there was a demand for such a project.
The new, improved, and updated map has been redesigned to make it more legible and includes new routes, taking into account new pedestrian-friendly streets created since the former version as well as Elizabeth line stations.
It was launched alongside a #LetsWalk campaign that promotes walking from stations.
Just in time for half term and the Jubilee bank holiday, Harrison and his team hope the new map will encourage families to walk after a train journey during this period, and will help reiterate the need to improve the city for walkers, especially around stations.  
At the map's launch, where a group walked from King's Cross to the Strand, Will Norman, London's Walking and Cycling Commissioner, was present along other public figures.
The team was able to point out the need for better pedestrian crossings on Euston Road to reach King's Cross.
A digital version of the new map is available on Footways' website with geolocalisation.
Free paper maps are available in train stations around London.
One side of the paper map shows a plan of central London with "high streets on main roads" in yellow, "Footways routes" in orange, as well as parks, attractions, train and bus stations.
The other side proposes walks between major places across London with sites of interest to see along the way, features to see in the map's sponsor's areas and a "quick connections" map showing attractions in a 15-minute-walk perimeter from main stations.
Each walk is equipped with a QR code which leads to the digital map on the website.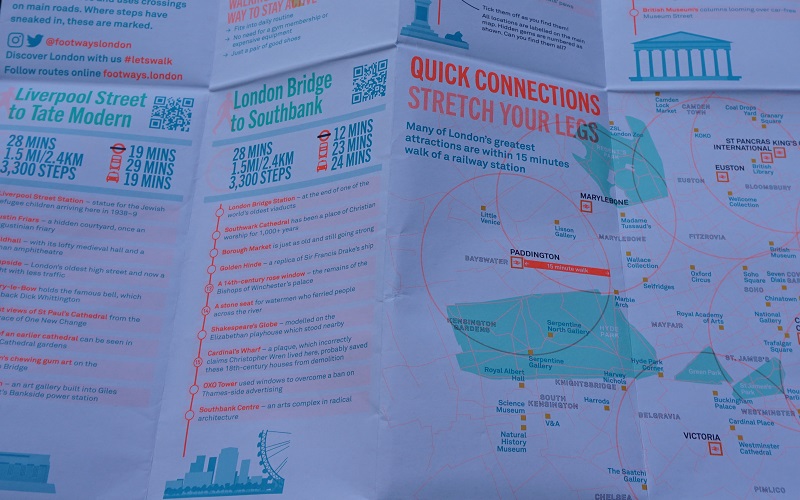 In order to find the different routes indicated on the map, Harrison and his Footways co-founder, Emma Griffin, explored the city and consulted other people such as local authority officers and guides.
As an example of one of his favourite walks, Harrison chose the walk from Waterloo to his home in Islington.
He said: "You can walk along the river with wonderful views of Somerset House, St Paul's and the City's skyscrapers.
"Over Blackfriars Bridge and through unspoilt Pre-Blitz streets – Black Friars Lane and Carter Lane – round St Paul's and along to Smithfields, drop into the City's oldest surviving church, St Bartholomew the Great.
"Then, to Clerkenwell Green and the intriguing Clerkenwell Close, one of my favourite London streets.
"Through Spa Fields and the squares on both sides of Amwell Street, round the back of the Angel, by the Canal and into the Danbury Street.
"By this time I am ready for a pint at the Duke of Cambridge. 
"There's so much history, so many fabulous buildings and views, so little motor traffic.
"We want our future to include more walking networks, more maps, and campaigning to create better streets and walkable cities.
"We are conscious that our maps are a tool for improvement."
The first Footways map was funded by TfL and the second map was funded by a number of sponsors such as Network Rail and King's Cross Central Limited Partnership. 
The new paper map will also be sold on Footways' website and in bookshops in June.