Founded just a few months ago, London-based Baesianz FC is a football team of women, trans and non-binary people of Asian heritage aiming to make the sport more inclusive.
The team was started as a branch of Baesianz, an Asian art collective that platforms the work of artists of Asian heritage.
Formed after a discussion at a party, this team, based mainly out of East London but training across the capital, is ready to take on Asian representation in sport and beyond.
One of their founders, Nicole, wanted to start the team after realising that Asian representation was scarce in the game, especially amongst women and marginalised genders.
She said: "We didn't want this to be exclusive. We want this to be an inclusive team, showing that Asianness is not just one thing but so many different things. 
"Sometimes in the media when you talk about Asianness, it's either South Asian culture specifically, or East Asian culture or south east Asian culture but we wanted to bring it all together because we think it's something really special.
"Through us just existing we are being ourselves and making space in this culture that tends to exclude us.
"We're just here to show that we are here to stay, we exist and we are going to do it our way regardless of what other people say."
Asian representation is hugely lacking in mainstream media and notably in football.
In October 2017, the BBC reported that out of 3,000 professional footballers in England, only 10 were British Asian.
Baesianz FC is trying to challenge the stereotypes of football with a team that looks like no other.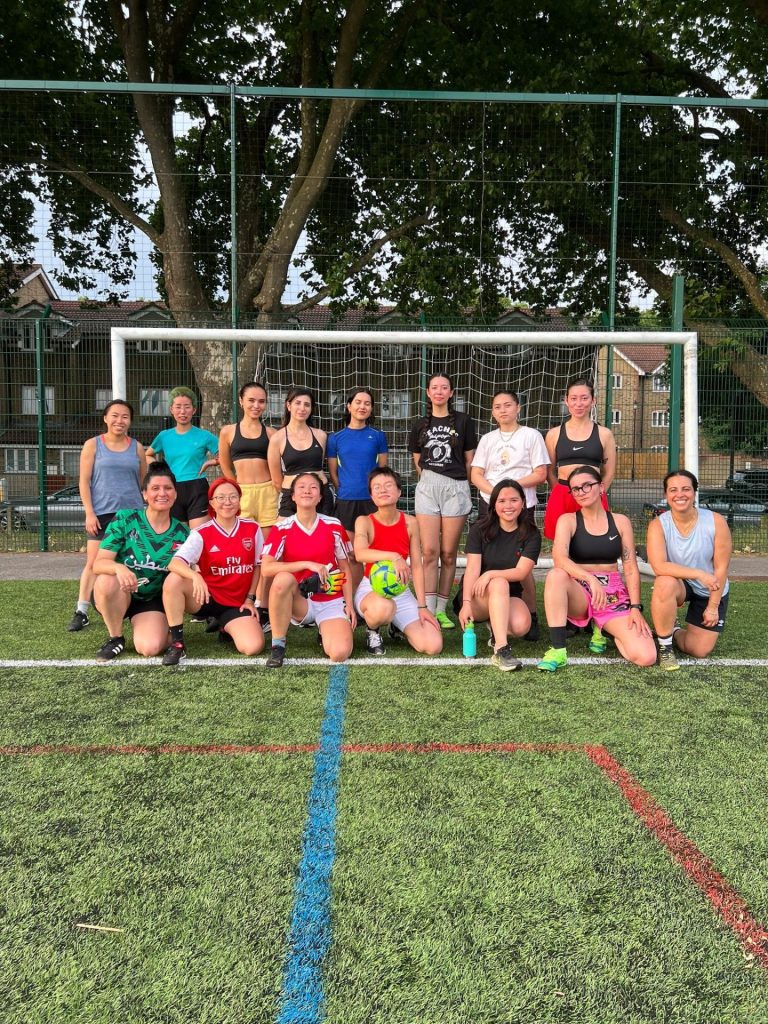 Nicole added: "I think representation is important in football because we know the feeling of not fitting into what a traditional football fan looks like.
"We want to show that we exist and that there are so many of us as this kind of representation could inspire the next generation of people of different Asian heritages.
"It could inspire them to enter the football industry or be part of a team that doesn't have to be about toxicity within football and can still be inclusive and welcoming."
For many of the players on the team, it creates an inclusive space for them to play football and watch it with a community they can relate to.
According to a survey by YouGov, a third (33%) of ethnic minority football fans who have watched a match at a stadium have personally experienced racist abuse there.
This figure rises to 43% when looking at those who go to football stadiums at least once a year.
This means that making a safe space in the sport for minorities is vital and Baesianz FC have tried to facilitate this as much as possible.
Natassia, who has been playing football since she was seven, said:  "I feel much more comfortable playing in Baesianz FC than any other team I've played for in the past, and I think it's because I've never been part of a team that celebrates women, trans and non-binary Asian heritage people specific to football, and it's a beautiful concept and community to be a part of.
"It's allowed me to let loose, have fun, and make new friends, which ultimately improved my mental health, all whilst being in the safest of spaces."
Although there has been a push by the FA to increase Asian representation in football with the likes of Aston Villa's Arjun Raikhy, Arsenal's Mana Iwabuchi and Bristol City's Simran Jhamat, the only Punjabi girl ever to score at a competitive level for England's U17, there's still a long way to go.
The game itself is heavily Eurocentric, with a focus on teams only across the UK and Europe. 
But, countries in Asia have their own leagues such as Japan's J1 League, India's Indian Super League and even the Asian Champion League.
The lack of gender representation is still a problem.
Women in Football, are a network of women in the football industry and their research shows that 82% of women said they have faced obstacles in their football career.
Shane, who loves Baesianz for facilitating comfortable and progressive training, said: "The face of football is pretty male-dominated and that's probably what needs to be changed.
"It's evident in the pay gap, where professional men are paid about 50 times more than professional women footballers. It's absolutely mad and drives me insane."
Having a team that looks like you, is also important in creating a feeling of togetherness.
Semira had wanted to play football for a long time but found it difficult to sign up when the picture showed a team that looked nothing like her.
"It just felt intimidating, it didn't feel like it was a space where I could try it out and I can be bad at it. It felt like if I was bad, I would be judged," she said.
Societal pressure already expects people of colour to work that little bit harder than their counterparts and this can be represented in a sport which is a microcosm of wider discrimination and institutional racism.
Teams like Baesianz are hoping to change the face of the game forever.
By creating a space for those that don't feel welcome, they hope to inspire a whole generation of footballers who don't look like their predecessors.