Plans to display the unique Roman mausoleum and mosaics discovered near London Bridge in Southwark have been set in motion, according to commercial property developer Landsec.
Landsec and Transport for London's own commercial property Places for London have partnered to create a new community space to display the artefacts in a permanent exhibition, as well as host various archaeological events for the Southwark community.
Landsec have said that its project to redevelop the Southwark site as the Liberty of Southwark will incorporate the new discoveries as a wider project, although an exact timeframe is yet to be announced.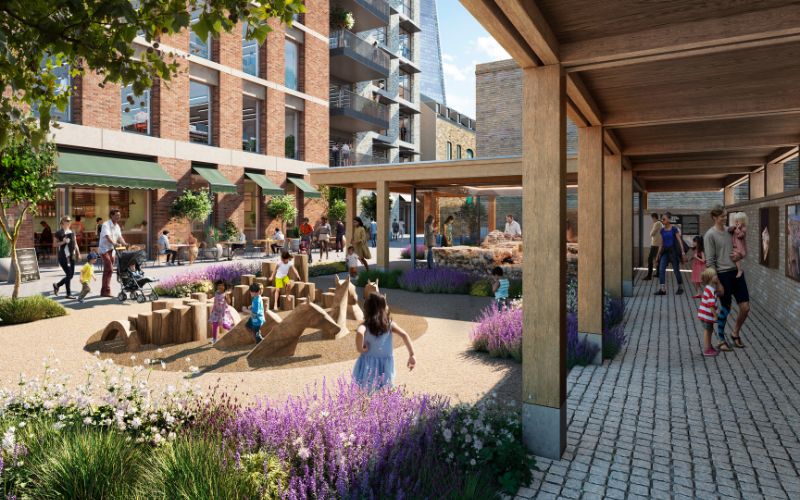 Development Director at Landsec Janet Kidner said: "The latest submission marks an exciting milestone in our progress to enhancing this important part of Southwark.
"We've engaged with the local community who, along with us, want to see the rich cultural history embedded into the place this site will become."
With the development of the new cultural hub, Londoners will be able to observe the most well-preserved mausoleum interior from 2000 years ago on its site of excavation, unearthed during the redevelopment of the major Southwark complex.
A spokesperson for the Museum of London Archaeology (MOLA) said: "The importance of this mausoleum is that it is the only example of an intact Roman mausoleum interior from Britain, and so archaeologists can learn a lot from it."
The mausoleum has survived for millennia thanks to the tomb's interior structure staying intact, with mosaics and platforms where the sarcophagi were placed.
Additionally, this mausoleum did not endure the dismantlement and damage that other Roman buildings and artefacts did from building work during the Medieval period, which the spokesperson attributed to "a bit of luck".
Along with the discovery of the Roman tomb in June, MOLA excavated four mosaics, which compose the largest piece of Roman mosaic discovered in London for 50 years.
The MOLA spokesperson said that the artefacts represent "a major discovery and a lot of new information for archaeologists."
The Southwark site is believed to have been a burial ground for the richer members of Roman society, containing a tomb that might have been reserved for a family or part of a "burial club", in which members paid a fee to be buried within the tomb.
So far, 3,000 artefacts have been excavated from the site, such as skeletons and personal items, including coins, pottery, glass beads and bracelets.
A spokesperson for MOLA said: "Archaeologists are confident that all archaeological material on the site has been recovered.
"All of these finds are being cleaned, analysed and stabilised so that they're ready to go on public display or to an archive.
"MOLA, Landsec, Places for London – TfL's property company – and Southwark Council are working together to make sure that the finds are stable and preserved in the right conditions."
Councillor Catherine Rose, Southwark Cabinet Member for Neighbourhoods, Leisure and Parks, said: "The rediscovery of this Roman mausoleum and mosaics is a testament to the rich tapestry of our past.
"It is a moment of pride for Southwark, as we pay homage to the ingenuity and artistic brilliance that graced our borough in the Roman times.
"We are extremely grateful to the archaeologists, historians, and all those involved in unearthing these extraordinary remnants.
"As a council we are committed to preserving and promoting these archaeological treasures, ensuring that they are accessible to the local community and beyond for generations to come."
Featured image courtesy of Lowick.