Israeli Prime Minister Benjamin Netanyahu received a hostile reception as he sailed through the gates of Downing Street this morning – facing not one but two separate protests.
His convoy approached to cries of "Busha" – or "for shame" in Hebrew – from hundreds of British Israelis, many toting posters emblazoned "BIBI ESCOBAR" in denunciation of the right-wing leader's increasingly authoritarian legislation.
Just feet away, separated by a thin line of uniformed police, stood a sea of red, green and black, chanting "Stop arming Israel, stop bombing Gaza" – a rally organised by the Palestinian Solidarity Campaign.
For one group, criticism is centred around the swath of increasingly authoritarian legislation passed by Israel's leader in the last few months, which aims to weaken the country's judiciary.
For the other, pickets have been planted for much longer – with demands extending further than just tempering Israel's current leadership.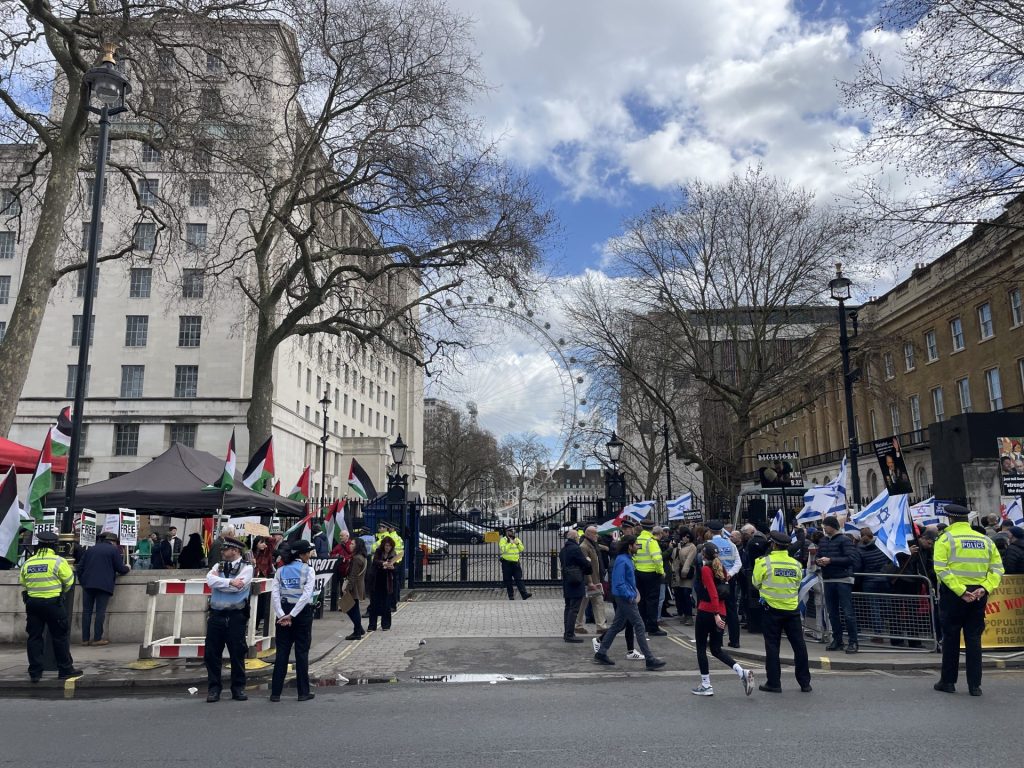 Orit Eyal-Fibeesh, a tech firm CEO who emigrated from Israel 19 years ago, is one of the organisers of the protest for Israeli democracy.
This is their third event, planned by what she describes as a grassroots group of British-Israelis keen to do something about the unbearable situation under Netanyahu's rule.
"As an Israeli living in the diaspora, I always took pride in how modern, open and liberal Israel was. This is now changing," Eyal-Fibeesh explained.
Her daughter is currently doing her PhD in Israel, and most of her family still live there – which makes the political situation feel even more immediate.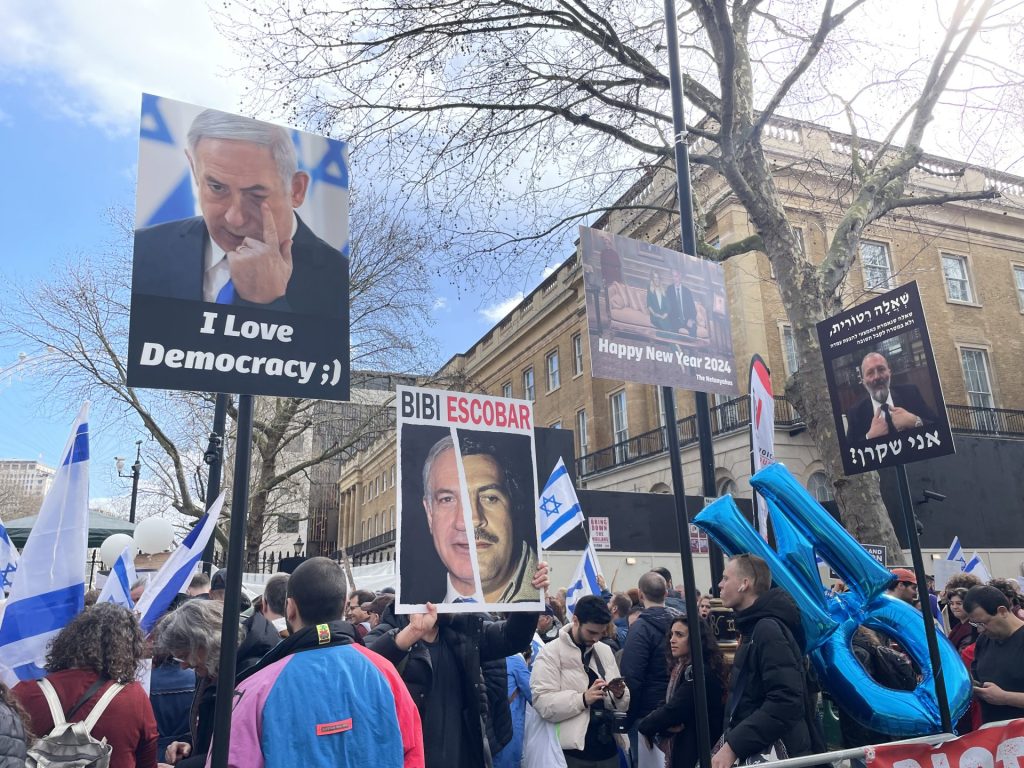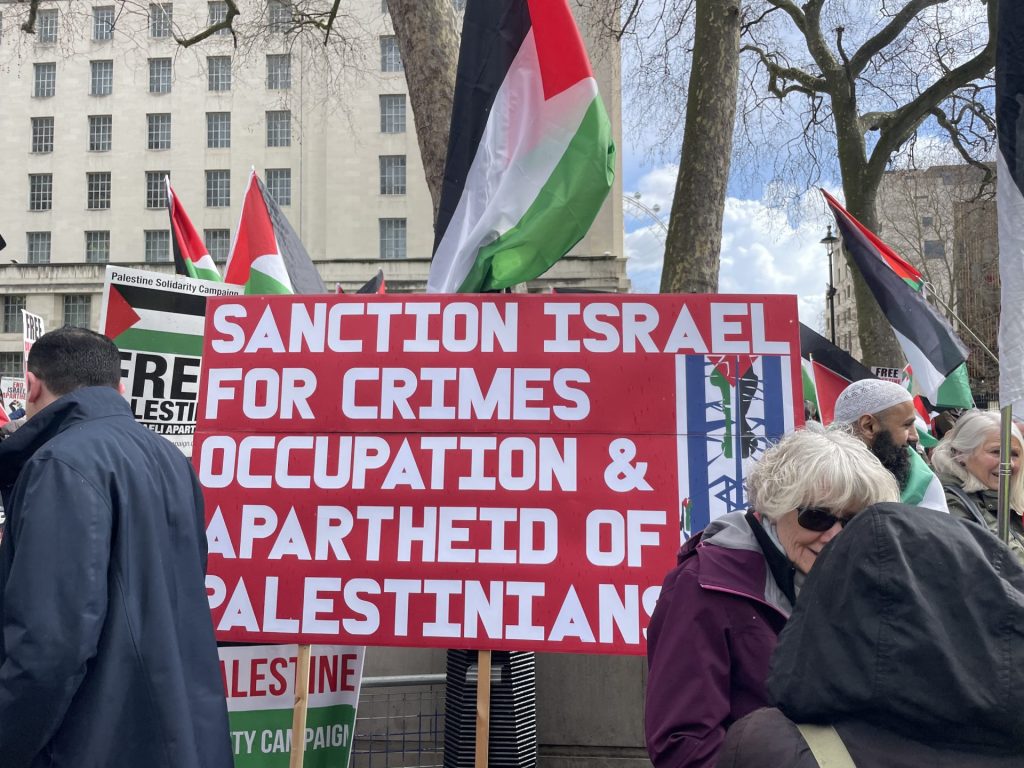 As well as Bibi's – as Netanhayu is nicknamed – chipping away of Israel's democratic checks and balances, Eyal-Fibeesh says her recent turn to activism is inspired by the plight faced by Israeli minorities under an increasingly fundamentalist government.
Just last month, Israel's Finance Minister openly described himself as a "fascist homophobe".
Israeli women also fear being stripped of their basic rights should the far-right government successfully capture the courts; many protests, including today's, have seen a parade of women dressed in red cloaks and bonnets, a la Margaret Atwood's Handmaid's Tale, stream silently out from the middle of the crowd, heads bowed.
"Israel is changing in front of our own eyes," Eyal-Fibeesh explains, "we need to bring back democracy."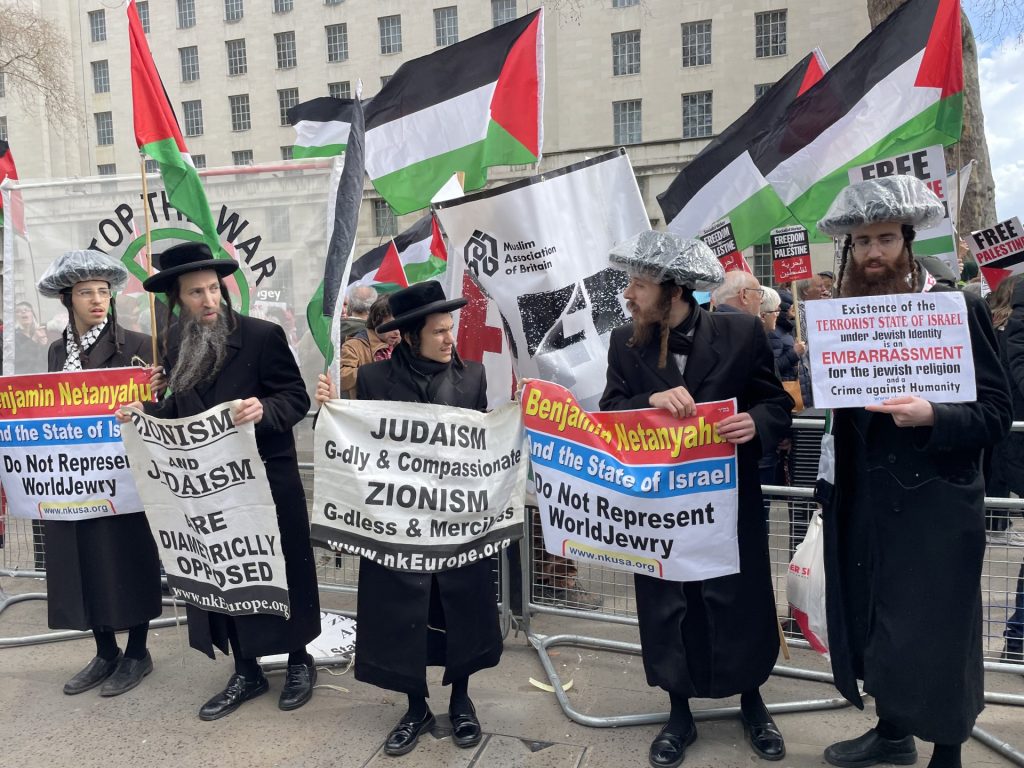 Ben Jamal, director of the Palestinian Solidarity Campaign (PSC) and a key speaker at their neighbouring protest this morning, believes the problem lies deeper than Netanyahu's recent rulings.
"Israel has never been a democracy for Palestinians," he roared to a cheering crowd from the main stage.
"Since 1948 Israel has established a system of oppression that denies Palestinians rights, that treats them as second-class under a system of apartheid.
"The independent judiciary that those protestors are so keen to protect is the same judiciary that has given approval for illegal settlements, destruction of Palestinian homes, and the theft of Palestinian lives."
Jamal's father was a Palestinian farmer, he tells me after his speech, but he only joined the PSC in 2017 after coming across one of their protests in Trafalgar Square, rising to director in just six years.
Today, the message his organisation is trying to get across is two-fold, he explains.
The first is to Bibi, who must be called out as the leader of a government responsible for imposing a system of oppression that some human rights organisations including Amnesty International have likened to an apartheid state.
The second is to the British government – which Jamal argues should be "holding Netanyahu to account, not rolling out the red carpet for him."
While Bibi's car had slid out of Downing Street by 10:30 – emerging to a similar refrain of jeers and frantically waved flags – both protests continued throughout the morning, speeches from each soapbox blending together into a smooth, yet often unintelligible chorus.
Other than one incident, when protestors toting Israeli flags were blocked from entering PSC's organiser box – "we support Palestine," the interlopers pled; "not with those you don't," a PSC activist replied – neither group seemed particularly keen to mix, remaining largely ensconced within their respective crowd.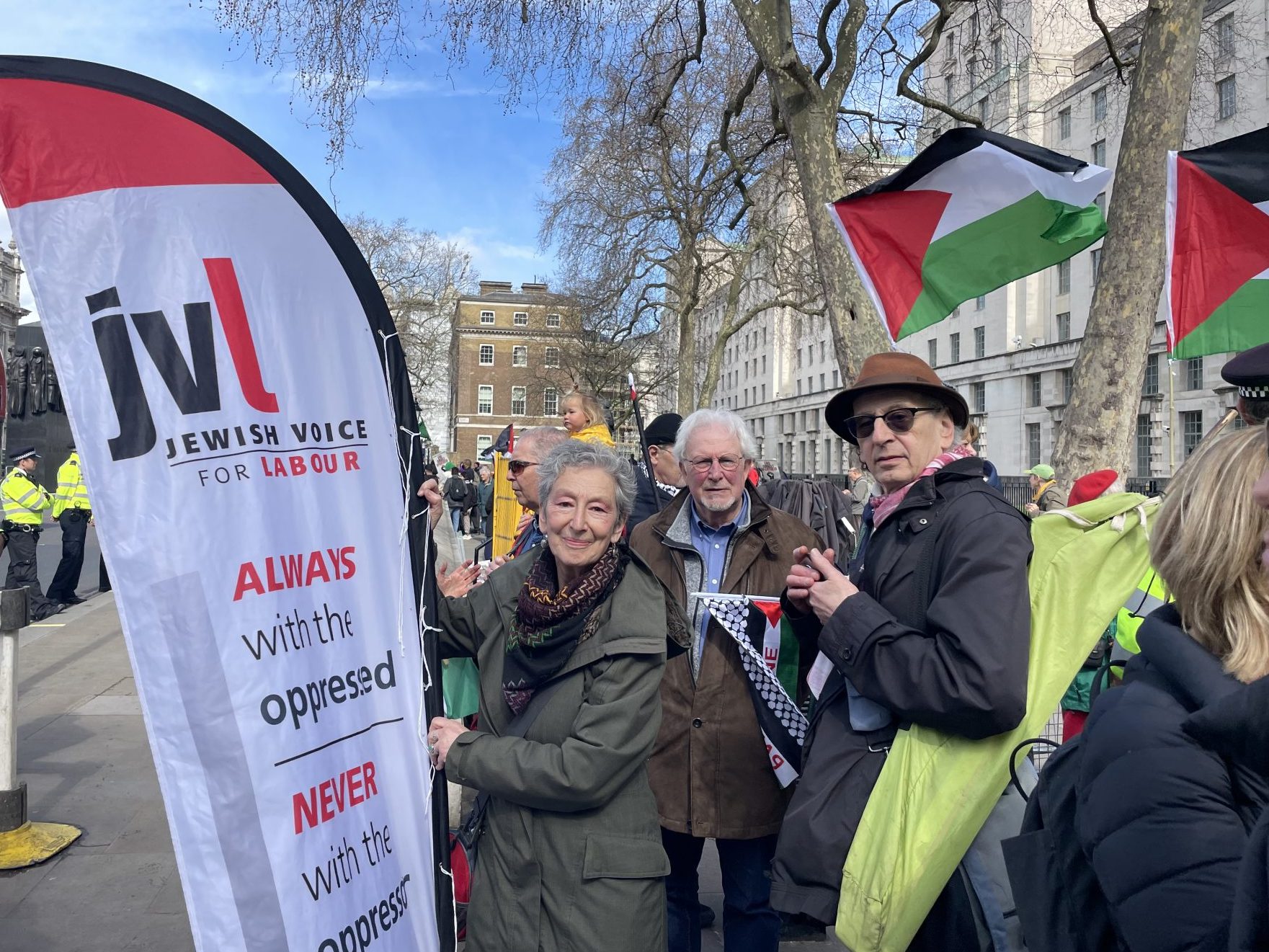 Naomi Wimborne-Idrissi, co-founder of Jewish Voices for Labour and PSC rally attendee, told me she'd had had productive conversations with protesters from both factions, however.
"I really welcome the opportunity to speak talk to people on that side," she said.
"There were people in the Israeli's for democracy protest who also share the concern about democracy for Palestinians as well as Israeli Jews."
Inside Downing Street, a spokesperson for Rishi Sunak claimed the British PM "stressed the importance of democratic values" during his brief meeting with Netanyahu, yet still "welcomed the chance to meet in person to progress our important partnership."
Sunak will reportedly be visiting Israel at the earliest opportunity.
The Israel Embassy in London has been sent a request for comment.