Pupils are demanding free school meals for kids in poverty in a new campaign that has seen a petition reach almost 225,000 signatures.
Youth-led charity Bite Back 2030 is urging the Government to take action for 800,000 children in poverty who don't qualify for free school meals.
As the cost of living crisis deepens, nearly 225,000 people have signed the petition to support children struggling to eat.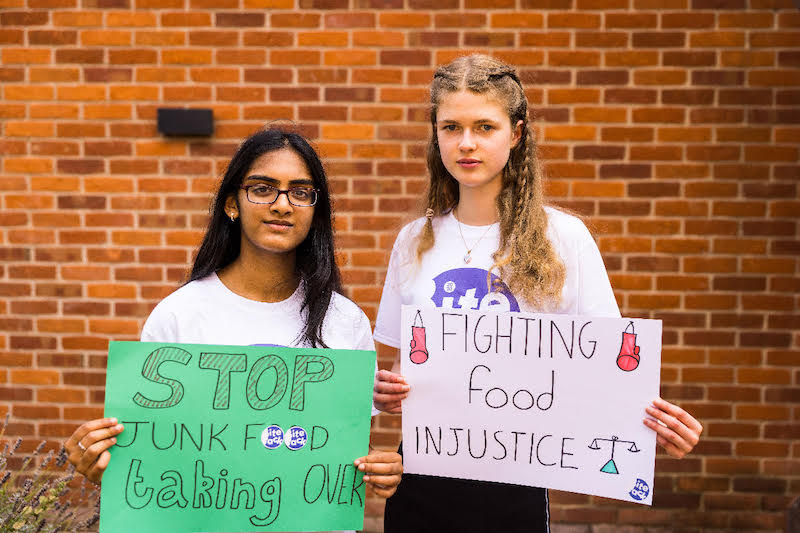 Bite Back 2030 campaigner Barakat, 18, said: "Having to worry about something as simple as a hot meal when being 15 isn't the kind of stress we should be putting on our children.
"For a lot of the 800,000 kids it is the only hot meal they will receive. 
"This is a universal issue and a prime opportunity to make a change and make the next generation feel supported."
The Fulham-based student, who started campaigning on the Bite Back National Youth Board aged 16, said: "When people get older, they kind of lose sight of what it is like to be a kid.
"Having to do this campaign is irritating in a sense because we understand the innocence of kids and how much support they need but the government doesn't.
"The support from the government is so important, changes how we engage with food, and shows us that there is care in our systems."
The campaign highlights the 800,000 school-age children in England who receive Universal Credit but do not qualify for free school meals.
For a child to receive free school meals, their family must be receiving either Universal Credit and earning under £14,000 a year or the Child Tax Credit or Working Tax Credit and earning under £16,190 a year.
With the eligibility threshold to receive a free school meal set so low and the cost of living soaring, more children are having to look for unhealthy alternatives, or not eat at all, the charity says.
Bite Back 2030 campaigner Christina Adane added: "The stories we're hearing from young people across the UK are a sad reminder that families are struggling to afford the basics.
"The fact we're one of the richest economies in the world and young people don't have access to at least one nutritious meal a day is shocking.
"This is really urgent and we need the Government to step up to prevent children from going hungry during the day."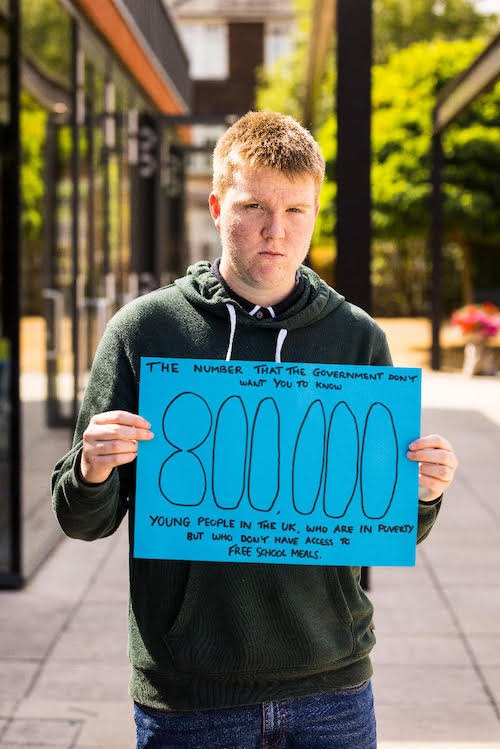 The campaign has already been supported by Conservative MP Michael Gove who said extending free school meals to every child whose family receives Universal Credit is the right thing to do.
The Secretary of State for Levelling Up, Housing and Communities also said that in an ideal world all primary school pupils would be entitled to free school meals.
The launch of Bite Back 2030's campaign comes after the release of their More than a Meal report which shines a spotlight on the meal challenges facing young people.
The report discusses children having to search for cheap, unhealthy food beyond the school gates, drinking energy drinks to maintain school performance, and giving away food to their peers.
Barakat said: "Being able to sit and eat with your friends at lunch is such a big part of the culture and rejuvenates children for the second half of school.
"Staff in my school, whenever someone couldn't afford meals, they would pay for it out of their own pocket. But I don't think it's the job of the teacher or lunch lady to provide food for their students."
Alongside their campaign, Bite Back 2030 has launched a video in which young people from across the country share the effect of missing meals on their health.
Victor from London, said: "There have been times where my family would go for days without eating.
"Saying free school meals aren't important it's like saying somebody's future isn't important."
You can sign the petition here and check out Bite Back 2030's website for more information. 
Featured image credit: Bite Back 2030