Details for a week of national mourning, with times and places needed to pay your respects to Her Majesty Queen Elizabeth II.
The Queen's body will travel from Buckingham Palace to Westminster Hall shortly after 2pm. Her coffin – draped in the Royal Standard – will be carried on a gun carriage of the King's Troop Royal Horse Artillery.
King Charles and the Prince of Wales, plus other senior royals, are expected to walk behind the cortege as it takes a 40-minute route along Queen's Gardens, The Mall, Horse Guards and Horse Guards Arch, Whitehall, Parliament Street, Parliament Square and New Palace Yard.
Once at Westminster Hall, the Archbishop of Canterbury will conduct a short service before the coffin is raised onto the catafalque and topped with the Imperial State Crown, orb and sceptre. Each corner of the platform will be guarded by soldiers from units that serve the Royal Household.
The Queen will lie-in-state from 5pm in Westminster Hall. The queue – across Westminster Bridge and down London's South Bank – will reach its maximum length at Southwark Park, four and a half miles away.
However, live updates will be provided regularly online showing wait times and detailing how how far back the queue is stretching. Toilets are being installed along the route and food and drink options will be available.
Westminster Hall will be open for members of the public to pay their respects 24 hours a day, it is expected a maximum of 3,000 will be able to file past every hour.

The first full day of the Queen's lying-in-state, there are no plans for this event, codenamed Operation Feather by officials.
In 2002, more than 200,000 people filed past the coffin of the Queen Mother and more than 300,000 paid their respects to Sir Winston Churchill in 1965. Significantly more are expected to file slowly past the Queen in the days ahead, with officials expected to ask for patience in queues that could last many hours.
The coffin will lie-in-state for four days, during this time the Queen's children, grandsons and granddaughters will all spend a 10-minute vigil guarding the coffin, though it is not expected these times will be communicated.
Large crowds are expected, and there are likely to be delays on public transport and road closures around the area. You should check ahead, plan accordingly and be prepared for long queues.
The best information may be available on social media, in particular the Department of Culture, Media and Sport's Twitter feed.
Visitors will go through airport-style security and there are tight restrictions on what you can take in. Only small bags are permitted.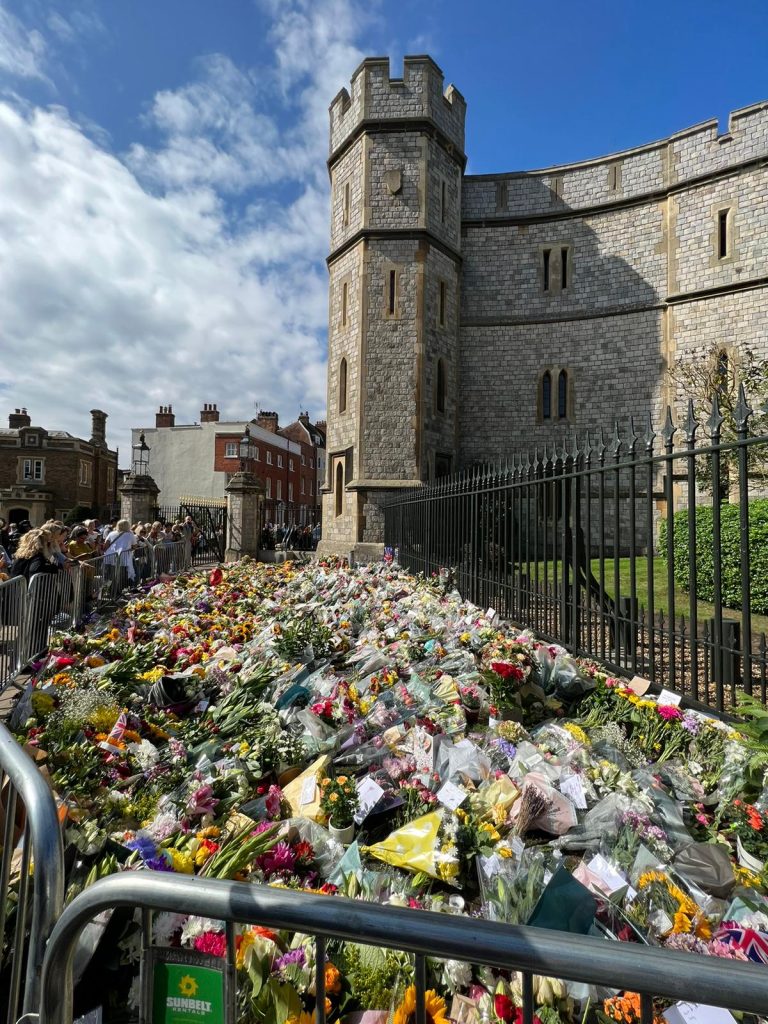 The coffin will lie-in-state for its second full day while the King and Camilla, along with the prime minister will conclude their home nation visits when they travel to Wales. It is expected they will be joined by William and Catherine, the new Prince and Princess of Wales.

The Queen's coffin will continue to lie-in-state at Westminster Hall. It is expected 350,000 will be able to file past across the four days. The last time to enter Westminster Hall is 6.30am on Monday September 19.
On Sunday evening, the King will host a reception for foreign dignitaries at Buckingham Palace ahead of the following day's funeral. World leaders, including US president Joe Biden, will be arriving in the capital throughout Sunday, staying in the residences of their London embassies.

The coffin will leave Westminster Hall on a gun carriage, hauled by ropes not horses, for the short journey to nearby Westminster Abbey, with military expected to line the streets.
A state funeral, which will start at 11am, will be held with members of the Queen's family joined by senior UK politicians and heads of state from around the world, with US president Joe Biden already signalling his intention to attend.
Following the funeral the coffin will will travel in procession from Westminster Abbey to Wellington Arch, from where it will travel to Windsor.
The coffin will journey along Windsor's Long Walk in the state hearse to St George's Chapel in Windsor Castle, where a committal service will take place.
She will be buried in the in the King George VI memorial chapel, alongside with her father, mother and sister, Princess Margaret. The Queen's late husband, Prince Philip, will be moved to be in the chapel with her, he was interred in the Royal Vault following his death, aged 99, last year.
Read – Queen Elizabeth II's journey from Edinburgh to Westminster Abbey as national mourning continues