London's cocktail bars are aiming to be more eco-friendly and sustainable in response to the climate crisis.
Bars in the capital are taking steps to reduce their carbon footprint by reusing and buying locally sourced ingredients.
Nine Lives Bar in London Bridge has created its own low-carbon drinks menu, featuring homegrown ingredients.
The south London bar has a zero-waste ethos, with a whole section of its menu dedicated to 'Loops', referring to drinks featuring reused key ingredients.
Nine Lives co-founder Tom Soden said: "I have found that a key element of sustainability not addressed enough is the carbon footprint of distribution.
"We've looked at the product, the location and the packaging of each ingredient on the menu to ensure we've reduced the carbon footprint as much as possible."
Not only does the bar serve three different takes on each classic cocktail – the classic, the bar's own low-carbon take on the cocktail and a version created by a guest bartender, they also re-use all the waste products produced from making cocktails.
This means the pith from fruits distilled to release essential oils which can be used to make liqueurs and hand soap; and anything else left over after that is neutralised and composted to help grow herbs in their back garden.
The hospitality sector is responsible for 15% of the UK's greenhouse gas emissions, according to the Sustainable Restaurant Association.
A piña colada can contain 690g of CO2e per drink, owing to pineapple imported from Costa Rica and coconut cream imported from Sri Lanka.
A Cosmopolitan — a mix of vodka, cranberry juice, triple sec and lime — can contain 366g of CO2e per drink, while an espresso martini has a lower carbon footprint of 152g of CO2 per drink due to its smaller amount of ingredients.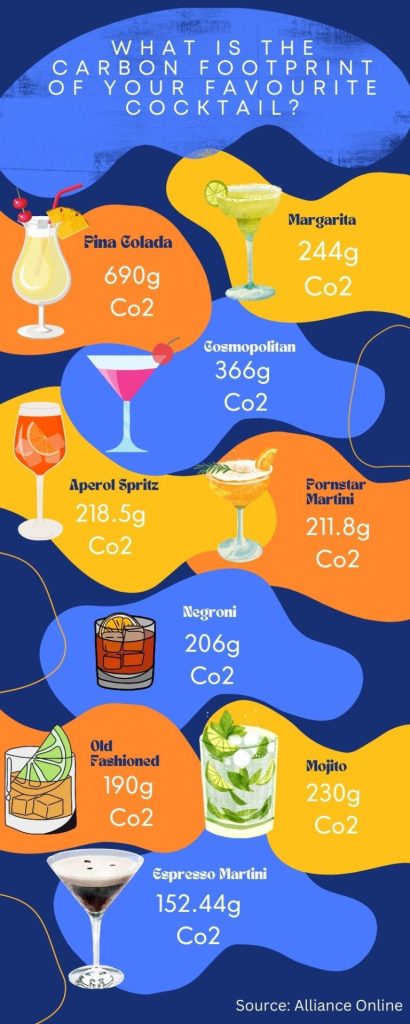 Other London cocktail bars have taken a similar approach to Nine Lives, but one bar has taken things a step further.
Hoxton based bar Avora is aiming to become the world's first carbon neutral immersive experience.
The bar describes itself as "a new-world theatrical cocktail adventure", offering guests an immersive experience where they forage for their cocktail ingredients and enter a "magical" world which is being exploited for its natural resources by a fictional billionaire.
Guests choose whether to continue working for the billionaire, or to rebel against him in order to save the "natural wonder" of Avora.
Avora's cocktail menu focuses on low-waste, low-carbon and plant-based options and one drink is served in a biodegradable, fully edible cup.
Although Avora hopes to bring attention to real world issues, the bar has made a conscious decision not to mention the climate crisis.
Sam Shearman, creator of Avora, said: "It's incredibly exciting to be bringing a brand-new concept and immersive experience to London.
"Our hope is that people have a fun and amazing time during their experience but also give a little more thought to the issues we are facing in our real world.
"It's quite hard to try and bring the actual climate crisis to life in an immersive experience that isn't necessarily fully educational.
"So for us, it's been a conscious decision to transport guests to another world.
"It's not an immersive experience on the climate change crisis, that would be quite a tough one to bring to life in a fun, light hearted way.
"People don't necessarily want to be made to feel guilty for their actions and don't necessarily want sombre real issues thrown into their face where it's not necessarily invited by them.
"So we don't want someone to leave Avora feeling deflated or drowned out by the scope of the issues, we want to make sure they have a really fun positive experience.
"I wouldn't want to sit here and say we'll change the industry. Our focus is really on trying to provoke feelings, emotions, and action from our audience who come."
Avora has partnered with UK environmental organisation, Ecologi, committing to planting a tree for every ticket sold.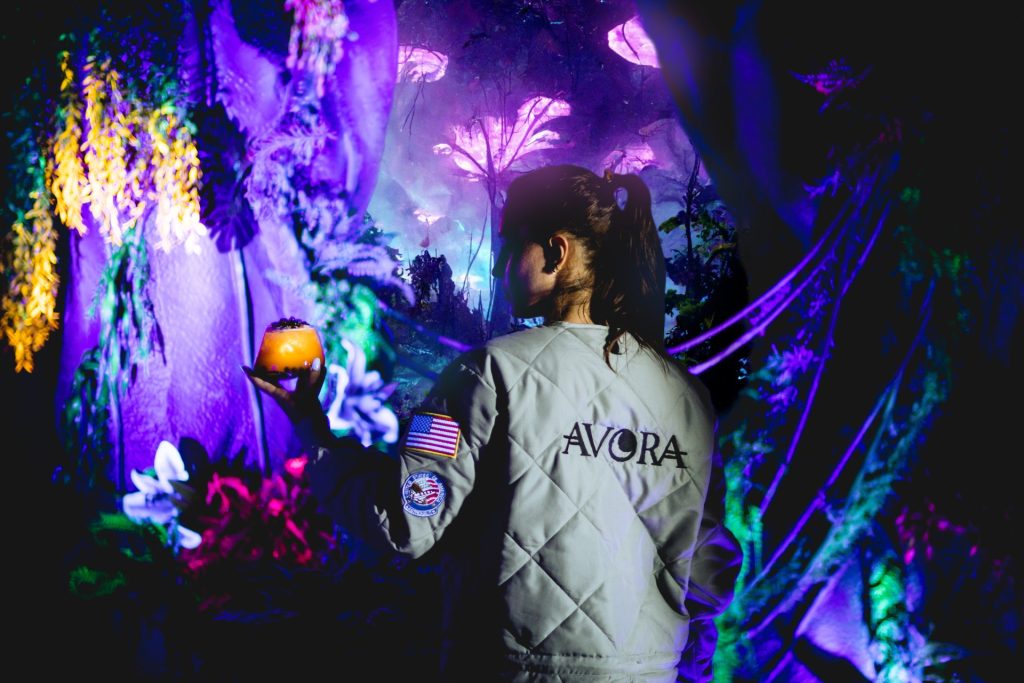 Although some London bars have carbon reduction strategies in place, many businesses are still doing nothing, according to Simon Heppner, director of NetZeroNow, an organisation that helps businesses reduce their carbon footprint.
He said: "Most people are doing nothing because there is currently no requirement for them to do anything. The only reason for businesses to take action is because they believe it's going to make them a better business.
"Some businesses take the view, correctly in my opinion, that if they have a credible climate strategy, they will benefit from customer loyalty, employee recruitment and retention, access to capital, all of the good things that derive from having a climate strategy, but it's voluntary action."
Heppner's aim is to encourage businesses to take tangible action to improve their climate strategy beyond greenwashing – a form of marketing spin used by businesses to persuade the public that an organisation's products and aims are environmentally friendly.
He added: "I've seen programmes that are out there that feel quite half-hearted, and very communications-led.
"There's programmes out there to plant a tree for every meal and that feels unscientific, very generic, and very communications-led rather than action-led.
"But greenwashing only ever gets applied to businesses that are trying to do something so it feels a little bit unfair that the 1% of businesses that are trying to do something attract this flack, which should really be directed at the 99% of businesses that are doing nothing."
Soden agrees that greenwashing is a problem for businesses.
He added: "It's become fashionable to be sustainable, but the issue is that there's unscrupulous individuals that are pushing bad agendas under the guise of sustainability.
"The sad reality of this world is that people's passion towards sustainability is skin deep.
"However, hospitality by its nature is about looking after other people, so if any industry is going to start to be sustainable, it's going to be hospitality."
Featured image credit: Avora