Uxbridge are the lowest ranked side left in the FA Trophy but manager Danny Edwards has been here before and is determined to go one better.
The Pitching In Isthmian League South Division Central side secured their third round spot after a dramatic penalty shootout following a 1-1 draw with Dover Athletic, a club two divisions above.
But an even bigger challenge is on the horizon, with a trip to National League stalwarts Dagenham & Redbridge beckoning.
And after missing out on a plum draw away at eventual finalists Wrexham after a 2-0 defeat to Folkestone at the same stage last year, Edwards was delighted to be drawn against the Daggers.
"We were quite unfortunate on the day [against Folkestone] and it was an absolute killer for us to see them draw Wrexham in the next round because we were so close to it," said Edwards.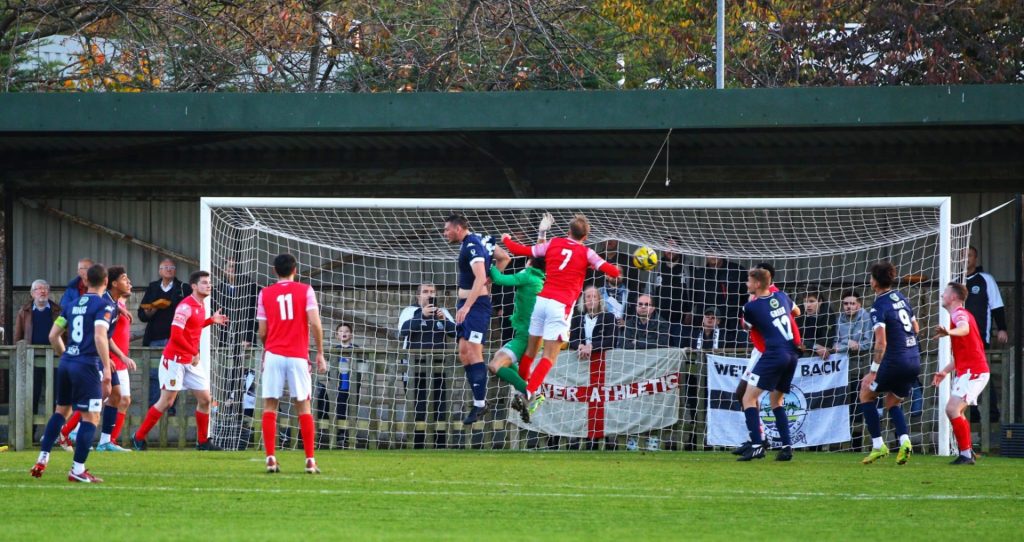 "This is a great draw for the club. We wanted to test ourselves against a good established National League side and Dagenham's a great draw. They have incredible history and a good set up.
"We're really excited by the prospect of going over there and giving it the best we can.
"I think if you're going to give it a go, you want to go out to a big club, so it'll be lovely to have a go at it and see what happens.
"It's a good bit of money for the club and it's a good experience for the players to test themselves and, heaven forbid, believe that you could win.
"The odds are completely stacked against us but football is football. We were fantastic against Dover and it shouldn't have gone to penalties, in my opinion.
"I know there is a big gap between Dover and Dagenham but if we can prepare ourselves and see what we can do, it'll be a great challenge for us."
The Reds hero in the shootout, young goalkeeper Henry Grad, was deputising for Tyler Tobin who was on his honeymoon in the Maldives.
But despite producing a superb stop to deny Dover's first penalty taker, Edwards is planning to revert back to the well-rested Tobin.
"I think Tyler would kill me if I didn't give him the nod!" admitted Edwards. "Poor Henry has done magnificently well. He's done brilliant for us and hopefully he sticks around.
"You never know, with a bit of form and a bit of luck Henry may well get to start."
Ladbrokes, with the support of its owner Entain, has launched a multi-million-pound investment programme, Pitching In, designed to support and promote grassroots sports. For more details see: https://entaingroup.com/sustainability/pitching-in/