The Neonatal Care (Leave and Pay) Bill has passed through second reading in the House of Lords today.
The Second Reading marks a huge step forward for parents across Britain being able to take longer paid leave when they have a baby in neonatal care.
The Bill is being sponsored in the Lords by The Baroness Wyld, with the support of Borough-based Bliss, the UK's leading charity for sick and premature babies, which has campaigned for this legislation for over a decade.
Baroness Wyld said: "I am delighted to sponsor the Neonatal Care (Leave and Pay) Bill as it progresses through the House of Lords.
"It will come as a relief both to families with a baby in neonatal care and employers who will be able to support them through such a difficult experience."
If the Bill becomes law it's expected around 60,000 parents every year will benefit from up to 12 weeks paid leave when their newborn babies are in neonatal care.
The current lack of extra maternity and paternity leave entitlement when a baby is born premature or sick means that many parents have to return to work while their babies are in hospital.
With only two weeks of paternity leave available, many fathers and non-birthing parents return to work long before their babies are well enough to go home.
Tom Padden's son Joseph was born 101 days early and spent just over 15 weeks in hospital receiving neonatal care.
Padden said: "I felt as though I missed out on being a part of any key decisions that had to be made immediately as part of Joseph's care. I also missed the two weeks of actual paternity leave at home where you bond with your baby – mine had been spent on the NICU (neonatal intensive care unit).
"Financially, even if my employer had offered it, I wouldn't have been able to afford to take time off work unpaid."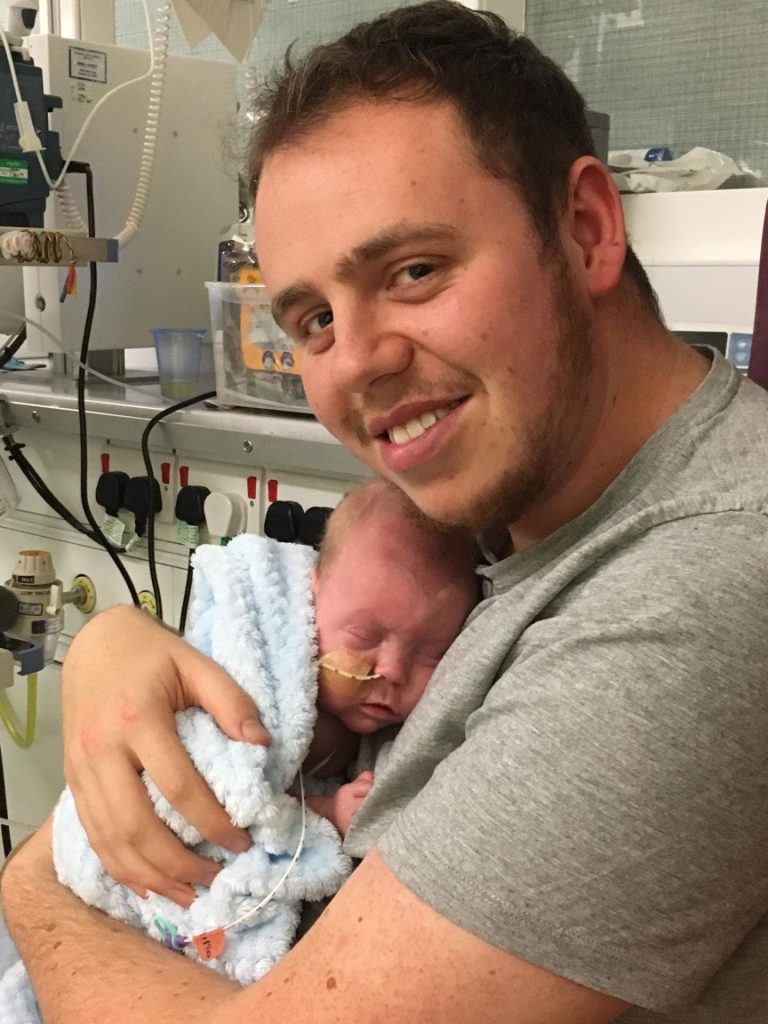 Recent Bliss research found that one in four families surveyed had to borrow money or increase their debt due to their baby's neonatal stay.
As household and living costs are rising, the pressure on families with a sick baby in hospital is increasing.
Bliss Chief Executive, Caroline Lee-Davey said: "The current law doesn't work for families, but it also doesn't work for employers who find it hard to support their staff when their baby needs neonatal care.
"We are absolutely thrilled that the Bill has passed through second reading in the House of Lords. Parents being central to their baby's caregiving is vital; babies have the best outcomes when their parents can deliver hands-on care, and no parent should have to choose between work or being by their sick baby's side."
Initially introduced to Parliament as a Private Member's Bill by SNP MP Stuart McDonald, the Bill also has vast cross-party support.
McDonald said: "No parent should have to choose between being with their premature or sick baby in neonatal care and having to go back to work to earn a living.
"With the cost of living soaring, it is more important than ever that we secure an urgent change in the law so that parents of babies in neonatal care get the paid leave and support they need at an incredibly challenging time."
The Bill will now progress to Committee stage in the House of Lords but is currently not expected to come into force until April 2025.
Lee-Davey added: "This Bill, if passed, will make a huge difference to the lives of babies born premature or sick and their families, which is why Bliss is urging the Government to speed up implementation of this new entitlement to ensure that families receive this support as quickly as possible."
Featured image credit: Matthew Henry and Burst