Sections of London's new Elizabeth line will join up in November, Transport for London (TfL) announced today.
Trains will run directly from Reading and Heathrow to Abbey Wood and from Shenfield to Paddington starting from 6 November, reducing the number of train changes passengers will need to make.
The Bond Street stop is also set to open as part of the second phase of the Elizabeth line's rollout.
London Mayor Sadiq Khan said: "The opening of the new Elizabeth line has been a landmark moment, not just for London but for the entire country, helping to contribute £42bn to the national economy.
"This enhanced capacity on the Elizabeth line will play a crucial role in encouraging people to make the most of the capital and will help support businesses in the heart of our city."
The further integration of the Elizabeth line will mean passengers can travel to Abbey Wood from Reading and Heathrow without needing to change at Paddington.
Passengers travelling from Shenfield will be able to get to Paddington without changing at Liverpool Street.
Sunday services on the Elizabeth line will also start on 6 November.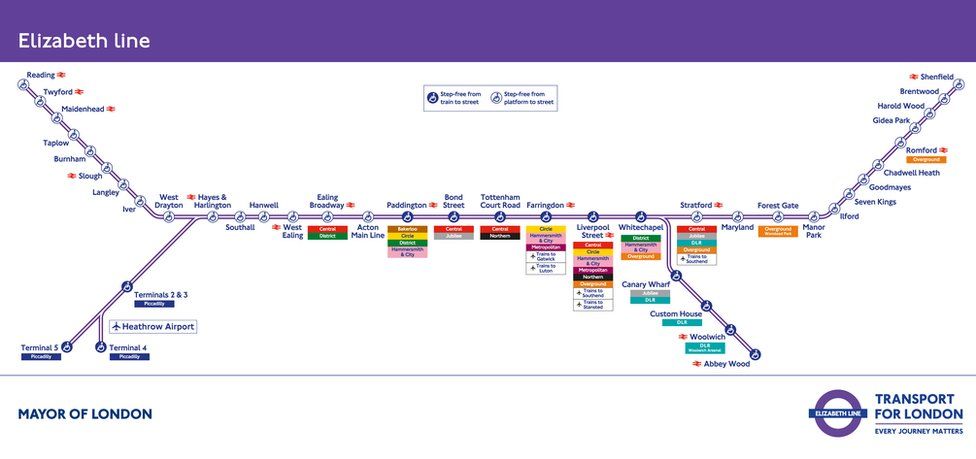 Andy Byford, London's Transport Commissioner, said: "When we delivered on our promise to open the central section of the Elizabeth line in the first half of this year, I further promised that Bond Street station would open this autumn and that the next phase of the line opening would also be achieved within that timeframe.
"I am excited to see the Elizabeth line unlock quicker and better journey options, greater accessibility, and further connectivity to jobs and leisure for even more people.
"This will be another giant leap for London's public transport system, which supports economic growth in the capital and right across the country."
Known as Crossrail during development, the Elizabeth line finally opened in May 2022 following completion delays and mounting costs.
The rollout of its full timetable of services is expected to be finished by May 2023 – at which point 24 trains per hour will run between Paddington and Whitechapel during the peak.
Find out more about current Elizabeth line services here.
Featured image: TfL