Londoners are far more likely to choose to staycation in the UK over going on an international holiday, new research suggests.
For many years, people have chosen to go on a big international holiday for a period of rest and relaxation.
For some that may have been followed up with a secondary staycation or perhaps a trip to Europe.
This tradition has been completely transformed by the Covid pandemic and the cost-of-living crisis. Research carried out by CensusWide reveals that almost half (41%) of people from Greater London are more likely to holiday in the UK than abroad this year due to the cost-of-living crisis.
As inflation continues to rise and wages remain stagnant more and more people are looking to make their money go that much further.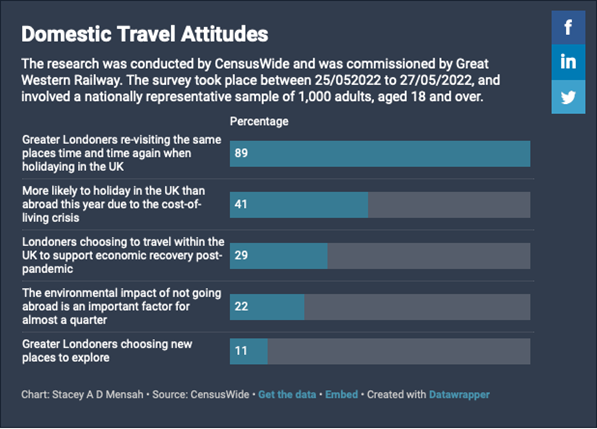 Although popular UK destinations including Cornwall and Devon can still be incredibly expensive, people are now venturing to other less-known UK spots to secure their time away.
Dan Panes, Head of Communications at Great Western Railway said: "We found that the current economic circumstances have significantly impacted Brits' travel habits, with a big proportion choosing to book holidays domestically this year, despite travel restrictions being removed.
"We were also surprised to find that so many people return to the same places time and time again, especially when there are so many fantastic destinations across the UK to choose from. Rather than 'wanderlust', people actually 'wanderless'."
Rahawa, from East London said: "To be honest with you if it wasn't for the Covid pandemic I wouldn't be considering having a staycation in the UK.
"As I'm in my mid-twenties I was really hoping to cross off those big bucket list items on my to-list but the economy had other plans.
"Due to the cost-of-living I'm now choosing to explore more parts of the UK. Some parts of the UK will really surprise you if you just give it a chance."
Former Londoner Tina said: "When I go on holiday back home to Ghana, it's really to see my family and to catch up with loved ones.
"With all the extra delays, costs and general uncertainty of flying it really has put me off for the time being.
"When I go on holiday, I'm not going with bags of money, so I do have to be mindful of how much I'm spending.
"As I also run a business, I need to know that I will be back in the UK by a certain date. I'm definitely going to start looking at a staycation rather than taking an international flight."
Great Western Railway are encouraging people to be more adventurous when booking trips as the UK has a diverse landscape that would suit any budget.
Featured image: Pixabay