The reported number of Islamophobic hate crimes in England and Wales received a 62% increase since the start of the COVID-19 pandemic, according to data from the Islamophobia Response Unit (IRU).
There were 407 reports of Islamophobia to the IRU in 2021, compared to in 2020 when they received just 251 reports.
Home Office Statistics highlight that in the year ending March 2020, hate crimes committed against Muslims were the highest compared to hate crimes against any other religion.
Faiza Mukith, Chief Executive Officer at the Islamophobia Response Unit, said: "I can tell you that during the pandemic we saw a spike in our cases, more specifically our neighbour dispute cases involving our clients being subjected to hate crime incidents from within their own homes."
The IRU claimed this was largely due to a high number of school reports received in May 2021 in relation to the pro-Palestine movement.
This refers to when schools reprimanded students advocating for Palestinians at a time when there were raids in the Palestinian neighbourhood of Sheikh Jarrah in Jerusalem and attacks on the Al-Aqsa Mosque compound during Ramadan.
Protests broke out across the world but many students felt that they faced Islamophobia from their educational institutions who asked them not to speak on the matter.
The IRU typically experiences an influx of reports at the start of the academic year related to the lack of prayer facilities.
Organisations such as the IRU encourage Muslims to report any form of Islamophobic abuse that they face in a bid to tackle the numbers.
The IRU is an independent charity and aims to supports Muslims in four different ways:
Providing emotional support
Providing free legal support
Making referrals to partner agencies
Data collection and monitoring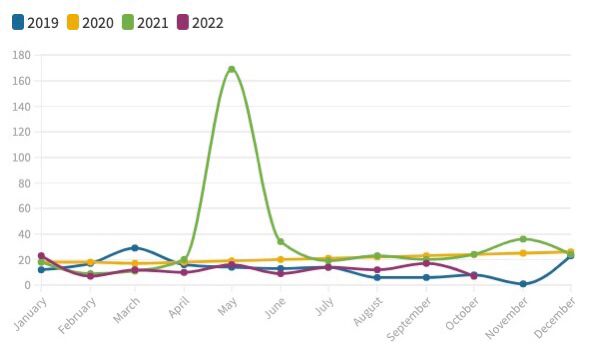 In March 2020-2021, a national lockdown occurred meaning that the opportunities for the random street-based abuse directed at Muslims was significantly reduced.
MEND (Muslim Engagement and Development) stated that this only led to a shift in the types of abuse that Muslim communities experienced during the pandemic such as an increase in reports of neighbour harassment.
MEND stated that hatred online was felt by many Muslims across the country during the pandemic as a result of conspiracies that were fuelled by the far-right, the media, and political representatives.
In a 2020 interview a Conservative MP, Craig Whittaker, stated that there are "sections of our community that are just not taking the pandemic seriously."
When asked if his comments were referring to Muslim communities, Whittaker responded: "Of course."
On 27 November 2018, the APPG (All-Party Parliamentary Groups) published a definition of Islamophobia following two years of consultation, explaining that it is "rooted in racism and is a type of racism that targets expressions of Muslimness or perceived Muslimness".
Having said that, Michael Gove, Britain's Conservative Secretary of State for Levelling Up, Housing and Communities has recently rejected The Parliamentary Group's definition and publicly opposed the idea of establishing an official definition.
The ruling Conservative party has long been criticised for its apathy towards tackling Islamophobic attitudes within the government, highlighted by the Conservative MP Nusrat Ghani who claimed a Party Whip admitted to her that she was sacked from her ministerial position in 2020 because her Muslim identity was "making colleagues uncomfortable."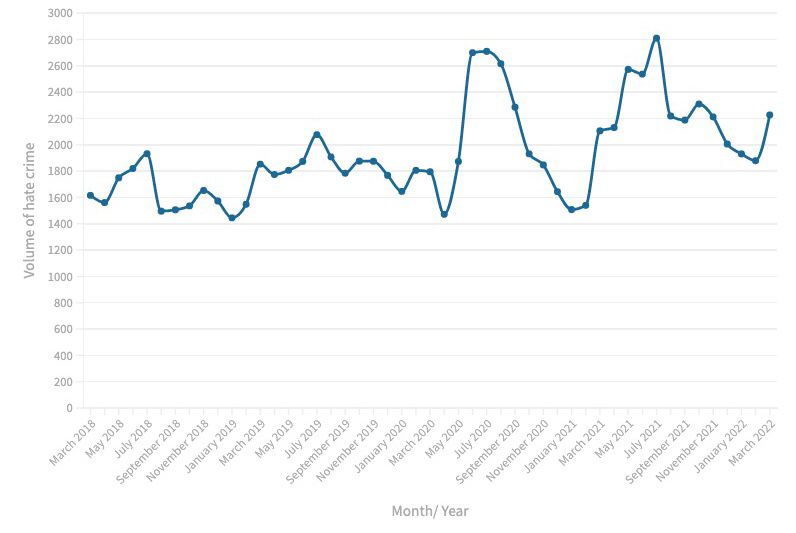 After the pandemic, the average level of hate crime significantly increased compared to the previous years but Home Office briefings have previously mentioned that it is hard to determine whether the increases in hate crime are due to a continuation of recording improvements.
Nonetheless, Home Office Statistics clearly show that in the year ending March 2021, just under half (45%) of religious hate crime offences were targeted against Muslims (2,703 offences).
This number has grown to 3,459 according to the Home Office report published for the year ending March 2022.
On Islamophobia Awareness Month, Mayor of London Sadiq Khan took to Twitter to express his condemnation of hate crime in England and Wales.
Huda Osman, Senior Caseworker at the IRU said: "We would advise anyone who has been a victim of Islamophobia to report the incidents to the police/relevant authority.
"The IRU has been established to support victims of Islamophobia, if any victims are unsure what to do or would like support to report their abuse, please contact us."
To access IRU services or to find out more, visit: https://www.theiru.org.uk/.
Featured Image Credit: Azha Salam