An exhibition to celebrate the centenary of the unveiling of Stockwell War Memorial will open on Saturday 30 April.
Run by Friends of Stockwell War Memorial and Gardens, the free centenary exhibition at St Michael's Church, Stockwell Park Road, is based around the themes of remembrance, community, and renewal.
Visitors will be able to see newly discovered photographs and reports of the memorial's construction and history as well as a short film on the memorial through the decades.
Originally unveiled by Princess Alice, granddaughter of Queen Victoria on 3 May 1922, the clock tower of the memorial was erected in memory of 574 local men who died in the First World War.
Lucy Caldicott, Stockwell Ward councillor, said: "It is wonderful to think that the Stockwell War Memorial has been in place for 100 years.
"It is a beacon of remembrance, resilience, and hope at the heart of our Stockwell community which is as relevant in 2022 as it was in 1922.
"I look forward to attending the exhibition to celebrate its centenary year."
Naomi Clifford, chairman of Friends of Stockwell War Memorial and Gardens said that for years the memorial was ignored but in recent years has gained more attention.
As awareness has grown, more relatives of those whose names are on the memorial have been in touch with the Friends and it is hoped that many of them will be attending the exhibition.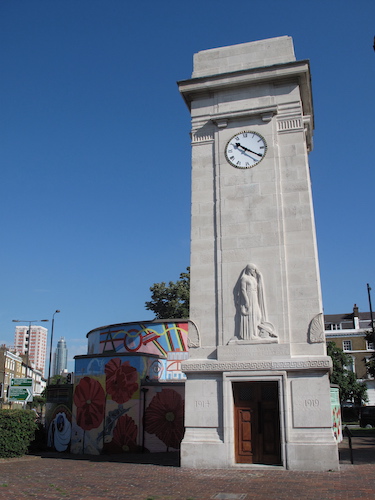 Clifford added: "We couldn't ignore the centenary. The First World War was supposed to end all wars and of course did no such thing.
"Particularly at the moment with the world at a crisis point, it is good to remember the devastation that war can bring and the sheer numbers of people lost."
The exhibition will be open at the following times:
Saturday 30 April: 11am-4pm
Sunday 1 May: CLOSED
Monday 2 May: 5pm-7pm
Tuesday 3 May: 2pm-4pm
Wednesday 4 May: 5pm-7pm
Thursday 5 May: 5pm-7pm
Friday 6 May: 5pm-7pm
Saturday 7 May: 11am-4pm
For more information on the exhibition please email [email protected] or telephone 07525 244337.
Featured image credit: Richard Paul Kingston