Central London saw miles of queues today as mourners flocked from all over the world to see the Queen's coffin.
Ahead of the Queen's funeral on Monday, members of the public have queued for hours to pay their respects.
Our reporters spoke to mourners on the route.
Army veteran Ian, 62, reminisced around his service and the significance the late Queen had to him.
He said: "I served in the forces a long time. So, she was Commander-in-Chief.
"Our paths crossed, I have met her majesty in one of the jobs I did. I'm from a family that are interested, involved and linked to the Royal Family."
He was not the only mourner to have had contact with the royals.
Counsellor Mo Kerry, 64 said: "I love the royal family. People love the royal family. I've met Princess Anne in a work Setting. She is the most knowledgeable person I have come across.
"In a subject I knew everything, she knew that much more. Just her dedication. Her dedication to children. She's a wonderful lady.
"It was nothing I could every prepare myself for before I met her. It was overwhelming. From then on, it was love of the Royal Family."
Like many in the line, retiree Georgina Atkinson from Bushey Heath queued for hours to get to Westminster Hall.
She said: "For myself personally it was a no brainer, to pay my respect to the Queen for all the wonderful things she has done. Sometimes things that we know. Things that we don't know.
"Most of all, for me personally, because she has upheld the Christian values of the country. I just had to come and pay my respect."
Izzy Borr, 20, and Stanley Admiraal, who work for Hay's on the River cocktail bar, set up a small bar along the route for thirsty mourners.
Izzy said: "We work in a bar next to the river and the queue is passing by it. We thought we'd set up a stall outside with all of our most popular drinks.
"All the usual soft drinks, Pimm's, cocktails, beers. – most people are pretty focused on staying in the queue, so we haven't actually had that much business.
"Most people seem to think that if they come out they'll lose their place which isn't strictly true. – we usually have a really busy period around five to six."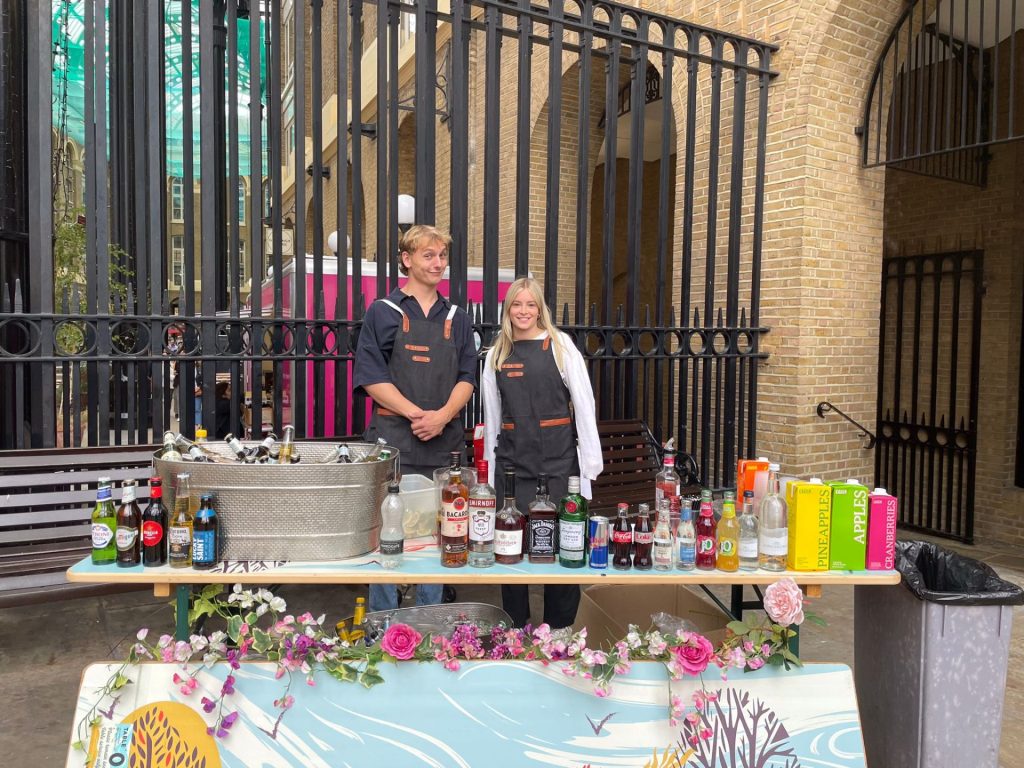 The Queen's funeral is set to be held on Monday 19 September.