As the temperature drops, and our wardrobe switches from summer caps to woolly hats, it is key to also look out for what we put in our bodies, to help them run as normal.
Bassetts Vitamins strives to make it easier for adults to top up their daily diets, so knowing that the vitamin category can be a confusing one, the health brand has teamed up with expert nutritionist Emma Derbyshire to share advice on the vitamins to look out for this winter.
Emma Derbyshire, Expert Nutritionist, said: "Winter is upon us and with that it's time to think about how we can reinforce our immunity to help avoid and lower the impact of flus and viruses should we get them.
"Getting enough sleep, being physically active and eating a healthy and balanced diet are all examples of modifiable lifestyle changes that can go some way to helping reinforce immunity and improving energy levels.
"As we see, however, in the UK diets are lacking in many nutrients that have core immune function roles. Bearing this in mind we may consider shaping up our diets or topping these up with a multivitamin/mineral supplement."
Top 5 Nutrients to top up with this winter:
1. Vitamin A
Vitamin A is fat-soluble vitamin typically found in dark leafy greens, orange-coloured vegetables, milk products, liver and fish. This vitamin is useful during the winter season as it contributes to the normal function of the immune system and helps to maintain normal mucous membranes. These line the nose, mouth and lungs. The glands in these membranes make mucus which is expert at trapping viruses and bacteria.
Data from the National Diet and Nutrient Survey– the UKs largest dietary intake study, however, shows that we are not all getting enough vitamin A. Eighteen percent of 11- to 18-year-olds and 1 in 10 adults aged 19 to 64 years have vitamin A intakes below the Lower Reference Nutrient Intake (LRNI; the level below which deficiency could occur).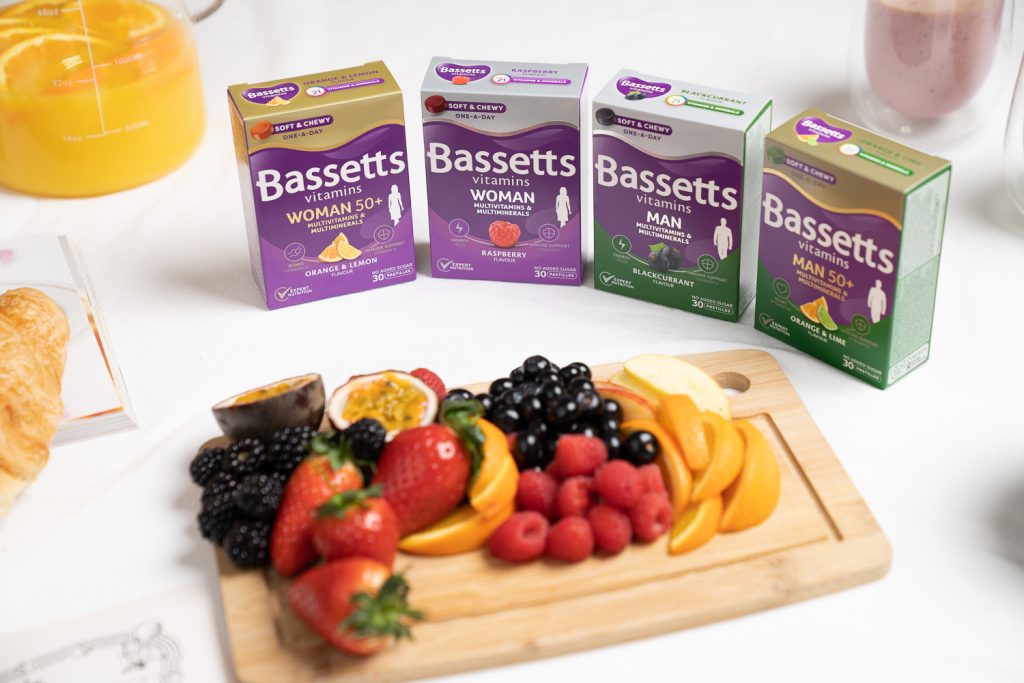 2. Vitamin D
Vitamin D is a fat-soluble vitamin that supports healthy bones and muscles (in particular, it contributes to normal calcium and phosphorus absorption). It also helps contribute to the normal function of the immune system.
Everyone in the UK is advised to take a supplement of vitamin D during winter months. During the winter the sun is not strong enough to stimulate the bodies own production of vitamin D as it sits too low in the sky. For these reasons Public Health England advises that 10 micrograms of vitamin D should be taken by everyone during the winter months.
From about late March/early April to the end of September, most people should be able to make all the vitamin D they need from sunlight. Vitamin D is also found in a small number of foods such as oily fish, red meat, liver, egg yolks, and fortified foods.
3. Zinc
Zinc is a mineral that helps to contribute to the normal function of the immune system. There has been plenty of interest in zinc recently, as a potential nutritional tool to stave off and counteract respiratory infections.
Zinc is known to modulate antiviral and antibacterial immunity and regulate inflammatory response. The strength of our immune systems can ultimately determine the progression of winter viruses.
When it comes to zinc intakes about 18% of 11- to 18-year-olds and 1 in 20 adults have daily zinc intakes below lower intake thresholds.
4. Iron
Feeling the effects of the winter and colder weather? Iron helps reduce tiredness and fatigue and contributes to the release of energy from food.
Iron can be found in lean red meat, nuts, beans, and leafy green vegetables, so winter stews can help to top up intakes. Unfortunately, we are not all getting the iron that we need from our diets.
Girls and women are most likely to fall short of iron. In fact, around a quarter of women aged 19 to 64 years and half of girls aged 11 to 18 years have daily iron intakes below the lower intake cut-offs, indicating that they are at risk of deficiency.
5. Selenium
Selenium is a mineral and essential part of enzymes which drives many of the reactions in the human body. Selenium is found in Brazil nuts, white meat, beans, and lentils. The amount of selenium present in our foods can depend on the selenium content of the soil in the area that the food grew.
It is thought that selenium could be involved in regulating immune function, potentially by regulating T and natural killer cells. In the UK some of us are struggling to obtain enough selenium from dietary sources alone. One-third (32%) of young people aged 11 to 18 years and 36% adults aged 19 to 64 years have selenium intakes below lower nutrient intakes levels.
Hannah Gardner from Bassetts Vitamins says: "Our nutritional needs are constantly changing throughout life and it's important to keep an eye on the nutrients we need as our bodies develop! At Bassetts Vitamins we strive to make it easier for people to support their health, with the top-up support that they need.
With the winter season fast approaching, you may consider taking a supplement to help support your immune system and help reduce tiredness and fatigue. With Vitamin A, Vitamin D, Zinc, Selenium and Iron being included in our multivitamin and multimineral products – Bassetts Vitamins has a huge range from vitamins for Woman, Man, Woman 50+ and Man 50+ so there's sure to be a product suitable for you.
What's more, unlike the usual difficult-to-swallow formats, the nutrients are packed into one tasty chewy pastille, making it more enjoyable and easy to support your daily wellbeing."
The full Bassetts Vitamins product range can be found here: https://www.bassettsvitamins.co.uk/.