Exploring the reality and challenges of being a lesbian in the 21st century, Damsel Productions brings The Ministry of Lesbian Affairs to Soho Theatre this month.
Writer of the play, Iman Qureshi, used several different characters to create a spectrum of diversity who work together to explore the differences of self-acceptance and identification.
While friendships are formed, relationships are threatened as the community is brought together through an evolving song-book choir.
The characters begin to recognise the lack of representation in their community and the choir is the only place that is dedicated to them and where they can feel safe.
Director of the production, Hannah Hauer-King said: "This is a story about belonging, harmony and togetherness, and the music of the choir feels like the perfect way to riff on these themes. 
"Despite its lighter tones, Ministry is also a play asking some difficult questions about why lesbian women struggle to commune and take up space."
Qureshi plays with tones and mockery in her writing to approach serious themes of homophobia, transphobia and domestic abuse.
The warmth and strength of the characters helps unite the audience with the story that unfolds in front of them.
Where there are places and plays provided solely for the gays, it is as if the lesbians are invisible and outcasted in society.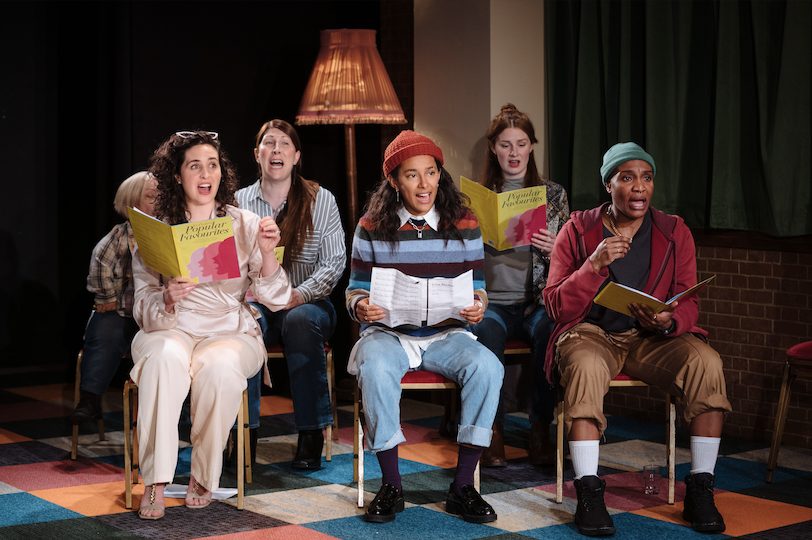 A member of the audience said it is an important story to tell as it surfaces the issues for gay women that gay men don't have to face.
As the characters grow and develop their story, the times are changing in the music they sing.
The world is always adapting and through the change in attitude of the music they sing, they are able to create harmony which is their ultimate goal.
Viewers described their emotions towards the production as: "Moving", "Gay", "Joyous" and "healing".
Qureshi said in an interview with The Guardian that she wanted the theatre to become a lesbian Mecca where queer women can flock to and finally claim a space.
In London there is only one lesbian bar which is brought to attention in the play.
By staging a reality-based scene on the lack of networking opportunities, the audience can engage and feel heard in the missing gap of the market.
The production is co-commissioned by Soho Theatre and Damsel Productions and is supported by the Cara Delevingne Foundation.
Damsel was set up with the aim to help the misrepresentation of women in theatre. They have an all-woman creative and production team.
They use the untold aspects of female experiences and bring them to the surface through the use of a stage.
The production will run for 5 weeks in Soho Theatre's Main House from 6 May to 11 June 2022.
Prices start from £12, and you can find for more information here.